 No Pets (Rob Paulsen)
Rob Paulsen does not have any reported pets.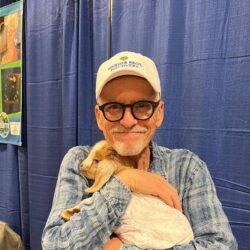 Birthday
March 11, 1956 (67)
Rob Paulsen is an American voice actor and singer, celebrated for his work in animation and video games. His voice has brought to life some of the most iconic characters in children's television, including his roles as Raphael and Donatello in the various iterations of "Teenage Mutant Ninja Turtles," Yakko Warner and Dr. Scratchansniff in "Animaniacs," and Pinky from "Pinky and the Brain."
Throughout his career, Paulsen's vocal versatility has seen him contribute to a plethora of films and television series. Notably, his work extends to "The Fairly OddParents," where he voiced Mark Chang, "The Mask" as Stanley Ipkiss, and "Jimmy Neutron: Boy Genius" as Carl Wheezer. His performances have not only shaped the childhoods of many but have also become a staple in the realm of voice acting.
Paulsen's collaborations read like a who's who of the entertainment industry. He has worked alongside fellow voice actors such as Tress MacNeille, Jess Harnell, and Maurice LaMarche in "Animaniacs" and "Pinky and the Brain." His work with Frank Welker in "Scooby-Doo" and "Transformers" series, as well as with Kevin Conroy in the "Batman" animated series, further highlights his collaborative spirit. He's also shared credits with Seth Green in "Teenage Mutant Ninja Turtles," Tara Strong in "The Fairly OddParents," and Cree Summer in "Inspector Gadget." His interactions with Jim Cummings in "The Tick," John DiMaggio in "Futurama," and Billy West in "The Weird Al Show" showcase the breadth of his professional relationships.
Recognition for Paulsen's work includes a Daytime Emmy Award for Outstanding Performer in an Animated Program for "Pinky and the Brain" and several Annie Awards for his voice acting.