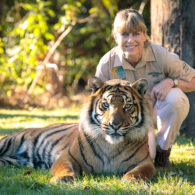 Childhood pets and Animal Sanctuary
During her teenage years and early 20s, Terri Irwin worked as a vet and helped rehabilitate animals through Cougar Country, which she founded with her parents. In addition, Besides helping out hundreds of animals each year, she had around 15 cats, several birds, and a dog for pets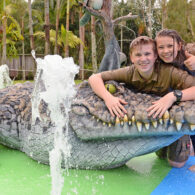 Australia Zoo
Australia Zoo is a 700-acre zoo located in Queensland, Australia. It's owned and run by Terri Irwin, the widow of Steve Irwin, and their children Robert and Bindi. The zoo is also the setting for the Irwin family's Discovery Channel reality series Crikey! It's the Irwins. It was originally founded by Steve Irwin's parents, Bob and Lyn Irwin, in 1970 with the name Beerwah Reptile Park. It was eventually renamed Queensland Reptile and Fauna Park, before becoming the Australia Zoo when Steve and Terri took over in the 1990s. In 2004, they opened the Australian Animal Hospital next to the zoo, which cares for up to 6,000 animals per year.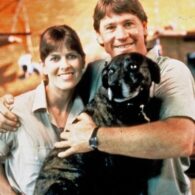 Sui
Sui was the name Steve Irwin and his wife Terri's beloved dog, a Staffordshire Bull Terrier they got in 1998 and lived till she was 15 years old. She was tough and adventurous like her animal-loving parents, joining them on crocodile expeditions and surviving both a car crash and a wild boar attack. They loved Sui so much, that they gave their daughter Bindi the middle name "Sue" in her honor!
Terri Irwin is an American-Australian zookeeper, conservationist, author, and TV personality born on July 20, 1964. She's also known for her marriage and working relationship with the late Steve Irwin, aka The Crocodile Hunter. They had two children together, Bindi and Robert. She's the owner of the Australia Zoo, which she runs with her kids. She currently stars alongside her kids in the Discovery Channel reality TV series Crikey! It's the Irwins (2018-present).
Born in the United States to Environmentalist parents, she was raised around animals and the outdoors, similar to her late husband Steve. She worked as a veterinary technician at a vet hospital and later through Cougar Country, her own wildlife rehabilitation organization. While touring wildlife rehabilitation facilities in Australia in 1991, she had a chance meeting with Steve. The two married in 1992, and went on to co-star in The Crocodile Hunter (1997-2004), their unconventional television nature documentary series and its spin-off series, Croc Files, and The Crocodile Hunter Diaries. Footage from their honeymoon became the first episode of The Crocodile Hunter.