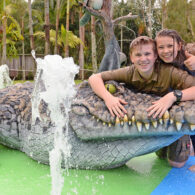 Australia Zoo
Australia Zoo is a 700-acre (280 ha) zoo located in the Australian state of Queensland on the Sunshine Coast near Beerwah/Glass House Mountains. It is a member of the Zoo and Aquarium Association (ZAA), and is owned by Terri Irwin, the widow of Steve Irwin, whose wildlife documentary series The Crocodile Hunter and his family's new show Crikey! It's the Irwins made the zoo a popular tourist attraction.
Terri Irwin AM, born July 20, 1964, is an American-Australian naturalist, conservationist, television personality, and author who is the owner of Australia Zoo in Beerwah, Queensland. She was married to Steve Irwin until his death in 2006 due to a stingray accident.
Born in Oregon, she began working for an independent animal rehabilitation center for injured predator mammals at the age of 22 while working for her family's trucking business. While touring wildlife rehabilitation facilities in Australia in 1991, she had a chance meeting with Irwin. The two married in 1992, and went on to co-star in The Crocodile Hunter, their unconventional television nature documentary series and its spin-off series, Croc Files, The Crocodile Hunter Diaries, and Crikey! It's the Irwins. They had two children, Bindi Irwin and Robert Irwin, before Steve's death.
Following Steve's death, Terri became a naturalized Australian citizen in 2009. She and her two children continue to operate Australia Zoo.