 No Pets (Steve Harwell)
Steve Harwell did not have any reported pets.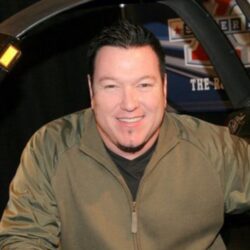 Birthday
January 9, 1967 (56)
Steve Harwell was an American musician and vocalist best known as the lead singer of the rock band Smash Mouth. He passed away in September 2023 due to liver failure.
Harwell's career soared with the commercial success of the band's debut album, "Fush Yu Mang," which included the hit single "Walkin' on the Sun." But it was their second album, "Astro Lounge," that really propelled them into the mainstream, largely due to the infectious single "All Star." The song became a pop culture phenomenon, and its appearance in the 2001 film "Shrek" gave it legendary status. Harwell has also explored the realms of television, making cameo appearances in shows like "The Simpsons" and participating in the sixth season of the reality TV show "The Surreal Life."
Steve Harwell had worked with a diverse array of artists and celebrities. While it's hard to decouple him from his Smash Mouth bandmates Greg Camp, Paul De Lisle, and Michael Urbano, he has also joined forces with others in the entertainment world. His band's collaborations include musicians like Ranking Roger of The Beat, and DMC of Run-DMC. They've toured alongside bands like Sugar Ray, led by Mark McGrath, and Third Eye Blind, fronted by Stephan Jenkins. Additionally, Harwell and the band took the stage with artists such as Everclear's Art Alexakis and Lit's A. Jay Popoff during the 2016 "Under The Sun" tour. Harwell even stepped outside of the music industry to work with chef Guy Fieri for charity events.
Harwell had received several distinctions for his musical contributions. The single "All Star" earned a Billboard Music Award for Modern Rock Track of the Year in 1999. In 2001, Smash Mouth's cover of The Monkees' "I'm a Believer" was nominated for a Kids' Choice Award. Moreover, "Astro Lounge" went triple platinum.