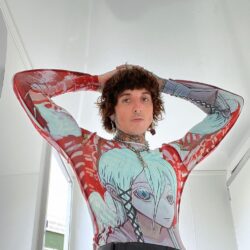 Birthday
November 20, 1986 (36)
Oli Sykes is an English musician and entrepreneur primarily known as the lead vocalist for the rock band Bring Me the Horizon. His voice and unique stage presence have been instrumental in shaping the band's genre-defying sound, which blends elements of metalcore, pop, and electronic music.
Sykes first gained fame through Bring Me the Horizon's debut album "Count Your Blessings," released in 2006. The album's raw sound helped it gain a cult following, but it was subsequent releases like "Suicide Season," "Sempiternal," and "That's the Spirit" that truly catapulted Sykes and the band into international stardom. The band's experimentation with diverse musical styles, evident in albums like "amo," and "Post Human: Survival Horror," highlight Sykes' ability to push creative boundaries.
Over the years, Sykes has collaborated with a wide array of artists and personalities in the music industry and beyond. These collaborations include musicians like Dani Filth (Cradle of Filth), Grimes, BABYMETAL (Su-metal and Moametal), and YUNGBLUD. He has also worked with Lights, Oliver Francis, and Nova Twins (Amy Love and Georgia South). Beyond music, Sykes has engaged with influencers and designers, including tattoo artist Kat Von D and fashion designer Daniel Poole, as he also runs his clothing line called Drop Dead Clothing.
Sykes and Bring Me the Horizon have received numerous awards for their contribution to the music industry. For example, they won the Kerrang! Award for Best British Newcomer in 2006 and the NME Award for Innovation in 2014. Their album "amo" was also nominated for a Grammy Award for Best Rock Album in 2019.