A recap on the Elizabeth Holmes and Theranos
First, let's start with a summary of Elizabeth Holmes and Theranos, the company she co-founded (Or skip to the next section if you already know). Holmes founded Theranos in 2003 when she was 19 years old, and Theranos' value peaked in 2013-14 at around $10 billion. At the time, they were all over the news for a blood-testing technology that was supposed to do multiple tests with just a little bit of blood. But then, the Wall Street Journal did some investigating in 2015 and discovered that it didn't work as advertised and could even be dangerous for patients. Since then, the company and its founders faced all kinds of legal and regulatory battles, including fraud and conspiracy charges. Holmes' net worth dropped from around $4.5 billion to pretty much nothing, and now faces jail time. Theranos officially dissolved in September 2018.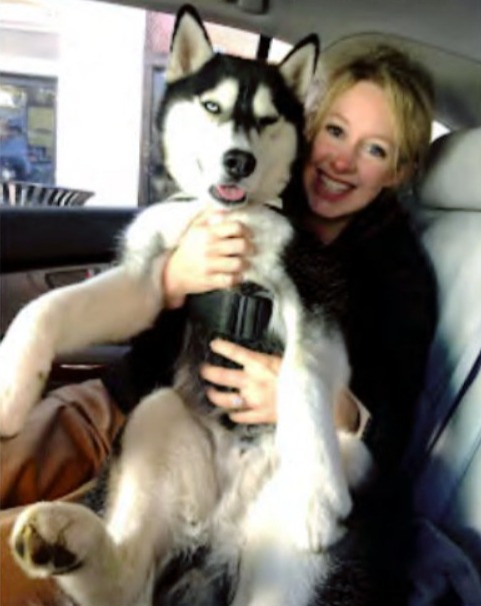 Elizabeth Holmes gets an office dog in the middle of Theranos' chaotic downfall
Between the 2015 Wall Street Journal expose and Theranos getting shut down in September 2018, it was a chaotic time for the company, to say the least. Lawsuits from investors, business partners, patients, vendors, and more. Investigations from the U.S. Securities and Exchange Commission (SEC) and medical authorities. In October 2016, Theranos laid off around 40% of its staff. In January 2017, they laid off around 41% of the remaining workforce… Then in September of that year, Holmes decides it's the perfect time to get an office dog!
Elizabeth Holmes' Siberian Husky named Balto
Holmes introduced a 9-week-old wolf named Balto to her office in September 2017 (after billing the company to fly first class to visit the breeder, of course). Well, that's what Holmes claimed it was. But as anyone can see, it's a Siberian Husky. (Interesting coincidence: Andrew Tate has a Siberian Husky that he also claims is a wolf and that he could beat it in "Mortal Kombat.")
The fraudulent wolf followed Holmes around the Theranos headquarters but was never potty-trained, so he made a mess all around the office, with an assistant assigned to clean up after him. Balto also joined Holmes when visiting the Theranos labs, despite scientists complaining that the dog's fur could interfere with their testing. So like his human, Balto seemed to cause chaos everywhere he went.
At some point, Holmes tested Balto's DNA, which showed a trace of wolf heritage. So, like with Theranos' blood tests that claimed to use a tiny amount of blood to run a vast range of tests, this trace DNA was enough for Holmes to proclaim Balto as a wolf. Apparently, when people would ask her what her dog's breed was, she would straight-up say he was a wolf.
On top of all this, and despite the fact that Huskies are bred for running… Holmes attempted to train Balto to be a search-and-rescue dog and spent weekends training him to find people in an emergency. And you guess right, Balto flunked out of his training program.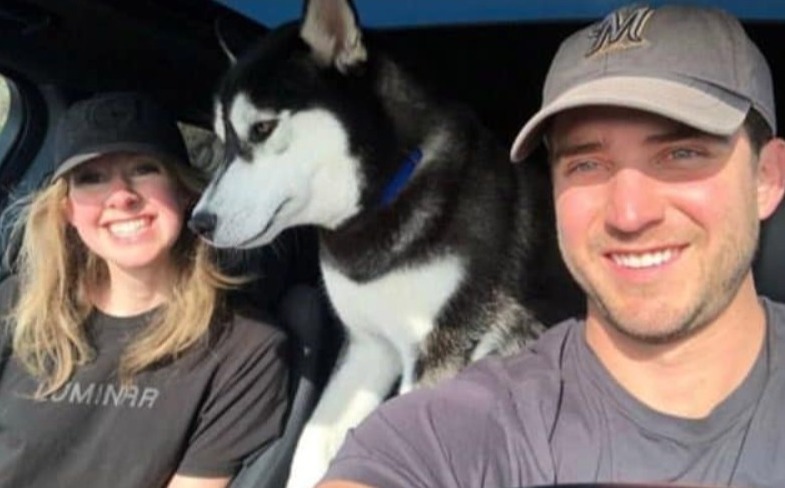 The Story of Balto, the (in)famous Siberian Husky
Holmes named her "wolf" after Balto, a Siberian Husky who lived in Alaska from 1919 until 1933. Balto worked as a sled dog, who became famous for leading his team on the final leg of a lifesaving run to Nome, Alaska in 1925. The dogs delivered a shipment of antitoxin to stop a diphtheria outbreak in the city. However, controversy arose when Balto's "musher," Gunnar Kaasen, received most of the credit and fame for the run, because he led the dogs on the final stretch. While the other mushers and dogs who traveled most of the distance were largely forgotten.
Balto was not considered an accomplished sled dog and never led prior to this. It's also believed Balto could not have taken part in the run at all, as photos and videos of him were taken after to recreate what happened. Kaasen and his dogs were essentially backups if the main sled dogs needed to be subbed out. Then the other mushers involved claim Kaasen didn't wake them for the last part of the journey so Kaasen could claim all the glory. Despite the controversy, Balto is generally remembered as a beloved symbol of bravery and determination. In recent years, the sled dog named Togo, who was part of Seppala's team (Kaasan's human leader), should get the credit. Togo led a 261-mile run, while Balto ran the last 55 miles and most likely didn't lead his pack.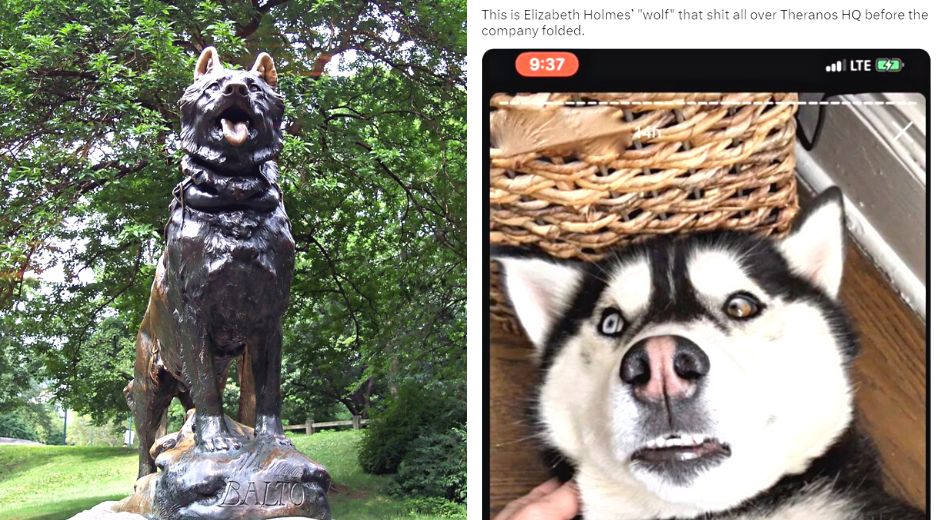 The Balto Reboot: Starring Elizabeth Holmes
Holmes clearly named her "wolf" after Balto to draw the comparison between how Balto and Kaasan delivered life-saving medication and how she was providing a life-saving blood test. But the irony is comparing how the original Balto and his owner lied for fame and glory while surrounded by controversy to Elizabeth Homes doing the same.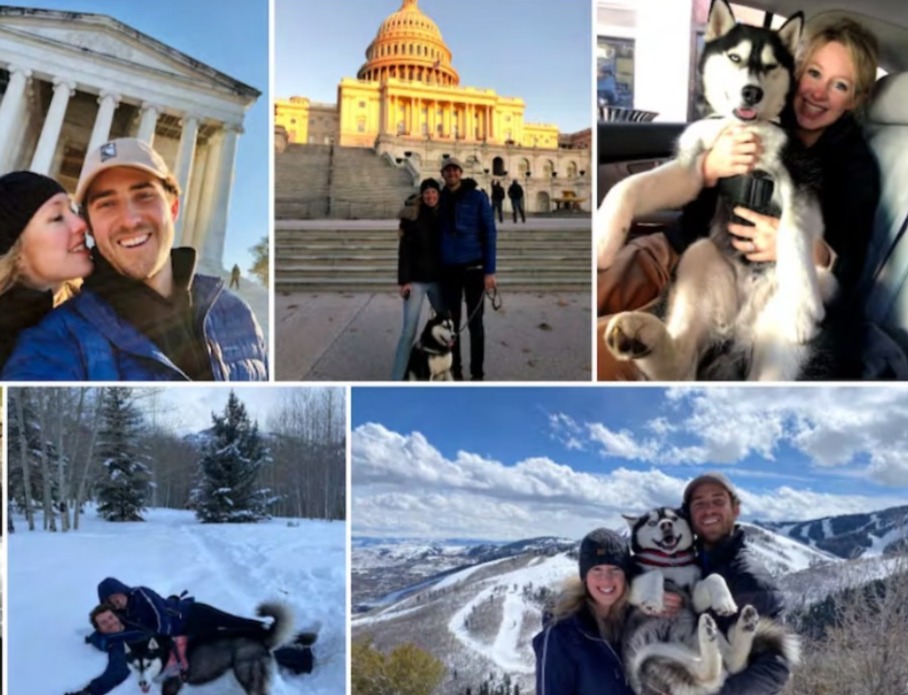 What happened to Elizabeth Holmes' dog Balto?
Holmes' husband, Billy Evans, claims that in 2022, Balto was "carried away by a mountain lion". Holmes and Evans also said they searched for Balto for 16 hours. Holmes then cited the tragic loss of Balto as part of asking for leniency in her trial. Homes is currently seeking an appeal to her 11-year prison term.
For another deceiving doggo, check out: Dog a Fake Hero – Story of a dog that pushed kids into a river to get steaks