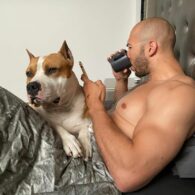 G the Pitbull (Dog)
Andrew Tate has a Pitbull named "G". Tate has been very vocal in just about everything he does including cats and dogs. In a 2022 video, he made it very clear that he had no love for cats but he does have a "soft" spot for dogs. In July 2022, Tate shared in an interview that his pitbull ate a teenage girl neighbor's cat that went into his yard, while mocking the girl for asking around for her cat.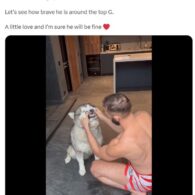 Apollo aka "Wolf" (Dog)
Andrew Tate has a well-fed Siberian Husky named Apollo. In April 2023, Andrew Tate posted a video on Twitter of him reuniting with Apollo and calling him his "wolf", which garnered some mocking replies from people taking his "wolf" comment seriously. Tate then replied with the tweet below, saying how his dog loves him because he could beat it in "mortal kombat":
The truth is. In mortal kombat, I would destroy a singular wolf. Decimation. I am one of the most powerful humans on the planet. And he knows it. Thats why he loves me. Respect and love go hand in hand.

@Cobratate, Twitter, April 2023 German Shepherd (Dog)
Andrew Tate used to have a German Shepherd. In February 2023, the BBC published an article about Andrew Tate first moving to Romanian and buying apartments in 2015. In it, a neighbor said Andrew and his brother Tristan left their German Shepherd loose to wander the building, where it at one point attacked a resident and left her with bruises. Stray Dog Shelter in Romania (Dog)
Andrew Tate said that as part of his charity efforts he operates a rescue shelter for stray dogs in Romania. On his podcast in August 2022, Tate said, "People say I'm a bad person but I run a shelter for dogs in Romania. I just rebuilt an entire orphanage."
Andrew Tate is an American-British content creator and former professional kickboxer. Tate began to gain popularity after his appearance on the reality television series "Big Brother." He was a controversial contestant on the show, and his performance helped him gain a large following of fans who appreciated his frankness. Tate later became a kickboxer, and won a few titles throughout his career.
Tate's career hit a major milestone with the launch of his fitness and lifestyle brand, Alpha Energy. The brand offered services designed to help people achieve their fitness goals. Tate has also released several books with his personal beliefs.
After focusing on his social media presence, Tate's following quickly grew controversial due to his unpopular topics and misogynistic statements. He was eventually banned from Twitter due to comments around sexual harassment. In 2022, the police raided his home. Since then, Tate has been at the center of a legal investigation involving human trafficking and rape allegations. He was later released along with his brother, Tristan Tate, on house arrest charges in 2023.