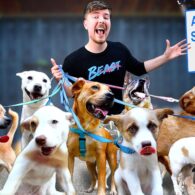 Adopted Every Dog
As one of MrBeasts video stunts, he went to a shelter, Sadie's Place, and adopted every single dog, and gave them to caring families. In total, there were 14 dogs. He and his girlfriend Maddy Spidell kept one of the dogs and renamed him to Swaggy.
Foxtrot, a black dog
Winston, a white and hairy dog
Iris, a brown dog
Monica, a small golden retriever
Taffy, a furry tan dog
Didi, a white chihuahua
Zeppelin, a mostly brown dog with a light brown and white face
Gumpy (renamed to "Swaggy"), a brown bulldog
Tommy, a white, brown, and black dog
Jive, a tan chihuahua
Noah, a black dog
Pepper, a small, brown dog
Gia, a mostly black dog with a white body
Kelly, a black dog
Pinky, a white dog
Jimmy Donaldson, known professionally as MrBeast, is an American YouTuber, businessman, and philanthropist. He has been credited with pioneering a genre of YouTube videos that center on expensive stunts. He is also the founder of MrBeast Burger and the co-creator of Team Trees, a fundraiser for the Arbor Day Foundation, which has raised over $23 million. He is managed by the Dallas-based talent management company Night Media.
In 2019, Donaldson won the Breakout Creator by Streamy Awards. At the 12th Annual Shorty Awards in 2020, he won YouTuber of the Year. He was also one of the top 10 highest-paid YouTubers of 2020, alongside other personalities such as Markiplier, Ryan's World and Blippi. He has also worked with influecers like Albert Aretz (Flamingo).