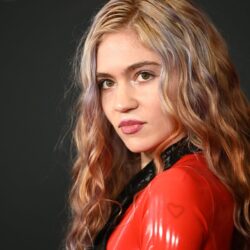 Birthday
March 17, 1988 (35)
Claire Elise Boucher, known professionally as Grimes, is a Canadian musician, singer, songwriter, and record producer. Her music has incorporated elements of varied styles, including dream pop, electronic, R&B, and hip hop, while touching on science fiction and feminist themes. She has released five studio albums.
Born and raised in Vancouver, Grimes began releasing music independently late in the first decade of the 2000s, releasing two albums, Geidi Primes and Halfaxa, in 2010 on Arbutus Records. She subsequently signed with 4AD and rose to prominence with the release of her third studio album, Visions, in 2012. Visions includes the singles "Genesis" and "Oblivion" and received the Canadian music industry Juno Award for Electronic Album of the Year. Following this, her fourth studio album, Art Angels, was released in 2015 and received critical praise as several publications named it the best album of the year. Her fifth studio album, Miss Anthropocene, was released in 2020.
In July 2021 that Grimes, alongside will.i.am, Alanis Morissette, Nick Lachey, and Rocsi Diaz were revealed as judges on Alter Ego, a new singing competition series in which the contestants make the use of motion capture technology to portray themselves as "dream avatars". On September 30, 2021, Grimes released a new song titled "Love". The song was recorded in response to her split from Elon Musk and the increased media attention from it. On December 3, 2021, Grimes released a new song titled "Player of Games". On the same day, she also announced the title of her sixth studio album, Book 1.