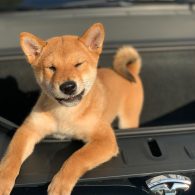 Floki
Elon Musk adopted a Shiba Inu puppy named Floki in 2021. Musk's new puppy had a major impact on the world of cryptocurrency, and as soon as the billionaire shared a photo of his Shiba Inu, the value of Dogecoin went up almost instantly. A crypto token has also been named 'Floki', after Musk's new dog.
Elon Musk, born June 28, 1971, is an entrepreneur and business magnate. He is the founder, CEO, and Chief Engineer at SpaceX; early-stage investor, CEO, and Product Architect of Tesla, Inc.; founder of The Boring Company; and co-founder of Neuralink and OpenAI. A centibillionaire with a net worth of around US$288 billion as of November 2021, Musk is the richest person in the world.
Musk has been the subject of criticism due to unorthodox or unscientific stances and highly publicized controversies. In 2018, he was sued for defamation by a British caver who advised in the Tham Luang cave rescue; a California jury ruled in favor of Musk. In the same year, he was sued by the US Securities and Exchange Commission (SEC) for falsely tweeting that he had secured funding for a private takeover of Tesla. He settled with the SEC, temporarily stepping down from his chairmanship and agreed to limitations on his Twitter usage. Musk has spread misinformation about the COVID-19 pandemic and has received criticism from experts for his other views on such matters as artificial intelligence, cryptocurrency, and public transport.