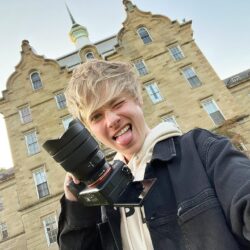 Birthday
November 27, 1996 (27)
Sam Golbach is a prominent figure in the digital entertainment landscape, best known for his work as one half of the popular YouTube duo Sam and Colby, which has captivated audiences worldwide with a blend of exploration, comedy, and paranormal content.
Golbach, in tandem with his long-time friend and collaborator Colby Brock, has crafted an impressive catalogue of content spanning various themes and genres. From their early beginnings on the short-form video platform Vine, where they gained initial recognition with their comedic skits, the duo has since moved to YouTube, expanding their content spectrum to include thrilling exploration videos. Perhaps the most notable series in their repertoire is the "XPLR: Fight the Living" series, which marries humor, adventure, and a dash of the supernatural, amassing millions of views.
Throughout his career, Golbach has had the opportunity to work with numerous influential personalities from the online entertainment world. Some of these collaborations include the likes of Brennen Taylor, a well-known YouTube personality known for his vlogs and comedy content, and Elton Castee, a former Viner and now YouTuber famous for his travel and adventure videos. Other collaborations feature YouTube personalities such as Kat Nestel, Devyn Lundy, and Corey Scherer. Notably, he and Brock have also been associated with the digital media company Studio71, and the influencer group Trap House, which also included Jake Webber and Aaron Doh.
Golbach was awarded the Streamy Award in 2020 for Best Action or Sci-Fi for their haunting exploration series "The Origin." The duo was also nominated for a Shorty Award in the YouTube Ensemble category, demonstrating the wide appeal and appreciation for their content.