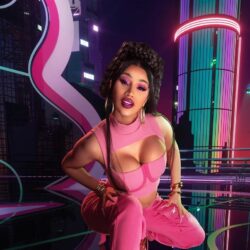 Birthday
October 11, 1992 (30)
Belcalis Almanzar , known professionally as Cardi B, hails from New York City, born and raised in The Bronx. She gained attention in the public sphere for openly discussing her career as a stripper on social media. Cardi B identifies as a feminist and credits stripping with giving her the financial freedom to escape a life of domestic abuse and poverty.
Cardi B was a regular cast member on the VH1 reality television series Love & Hip Hop: New York (2015-2017). Her debut single for Atlantic Records "Bodak Yellow" reached number one on the US Billboard Hot 100 chart. She was the second-ever female rapper to do so with a solo output, following Lauryn Hill in 1998. The single can be found on her debut studio album Invasion of Privacy (2018). Cardi B recently announced a pregnancy with fiancé Offset, who belongs to the rap trio Migos.
Cardi B the pitbull lover has up to twelve dogs!
Cardi B is a huge dog lover and specifically for pitbulls. Her two pitbulls Bentley and Boujee had eight puppies in 2018, which she kept five of. Later that year, she posted a meme to Instagram claiming she has eleven dogs, which would include her pomeranian Fluffy. She most recently got another pitbull puppy for Christmas 2021. This means she may be a dog mom to twelve total, with three we don't know about. If you know any more details about her dogs not mentioned here or the names of Bentley and Boujee's puppies, please let us know!