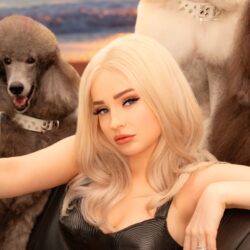 Birthday
August 27, 1992 (30)
Kim Petras is a German singer and songwriter based in Los Angeles. Between 2016 and 2020, she released music as an independent artist under her own imprint, BunHead Records, before signing with Republic Records in 2021 where she will release her upcoming third album and major-label debut.
Following her early success, Petras released a collection of digital singles which would later comprise her unofficial body of work known as Era 1. Petras released her debut project, Clarity, on 28 June 2019. The record was preceded with a nine-week-long promotional campaign, during which Petras released one single per week with an accompanying visual lyric video. Clarity received acclaim from music critics, reached number seven on the Heatseekers Chart and number 26 on the Independent Albums chart. Following this, Petras released a Halloween-themed album, Turn Off the Light in October 2019. In 2020, Petras saw international chart success with her singles "Malibu" and "Broken Glass", the latter being a collaboration with Kygo.
In 2023, Petras became the first transwoman to win a Grammy for her song "Unholy" with Sam Smith.