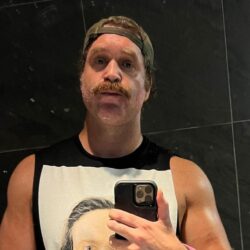 Birthday
July 20, 1985 (38)
Harley Morenstein is a Canadian actor and Internet personality, best known as the co-creator of the YouTube series "Epic Meal Time." Morenstein's career took a significant turn with the success of "Epic Meal Time," a show known for its extreme cuisine creations. This series not only showcased his unique brand of humor and culinary audacity but also marked his entry into the world of digital entertainment. His presence on YouTube has been a blend of outrageous food experiments and engaging entertainment, making him a notable figure in the online community.
Morenstein's career expanded beyond YouTube as he ventured into films and television. He appeared in the movie "Tusk," directed by Kevin Smith, showcasing his ability to adapt to different roles. His television appearances include roles in "Dead Rising: Watchtower" and "Video Game High School," where he brought his unique style to mainstream media.
Collaborations have been a cornerstone of Morenstein's career. He has worked with a range of celebrities and influencers, including Tony Hawk, Arnold Schwarzenegger, and James Franco. His collaboration with Seth Rogen in "Epic Meal Time" is particularly notable, blending humor and culinary creativity. Other significant collaborations include working with Smosh, Freddie Wong, and Rhett McLaughlin and Link Neal of Rhett and Link.
Morenstein's work has not gone unrecognized, as he has received several awards and distinctions. His show "Epic Meal Time" won a Shorty Award for Best Food Show on the Internet.