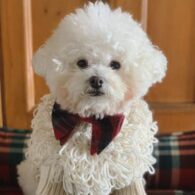 Mazie Cuttrell (Dog)
Fashion stylist to the stars Mimi Cuttrell has one dog, a Bichon Frise named Mazie. Mazie is a style icon herself and made the cover of the May 2018 issue of Harper's Bazaar, sitting on the lap of her "aunt" Gigi Hadid.
Mimi Cuttrell is an American celebrity fashion stylist. She has dressed some of the biggest stars in the entertainment world, including celebrities like Rihanna, Beyonce, Katy Perry, Ariana Grande, Priyanka Chopra, Madelyn Cline, and Gigi and Bella Hadid. She has also worked with some of the biggest fashion houses in the world, such as Gucci, Dolce & Gabbana, Givenchy, and Balmain. Cutrell's work has been featured in leading fashion magazines such as Vogue and Harper's Bazaar.