Marge is a Polish Hen who was adopted in 2021 by a very kind human. You see, while Marge is clearly a born fashionista, she also has a disability and can't walk on her own. So Marge's mom has put her time, energy, and love into helping rehabilitate her since then. This included a special chicken wheelchair you can check out below.
WOW!!!! So this right here is the most amazing sight. If you've been following me for a while you know that I can't stand up on my own. My mom has been doing physical therapy with me everyday for a year and half. She even got me a wheelchair from @walkinpets. When my mom first brought me home I could not even hold my head up and one of my legs was limp. I've made some amazing progress and today I was able to perch on my moms hand and hold my head up. My mom has been crying happy tears. Don't ever give up. My mom said she will never stop trying to make me walk again. Please give me a high five

Marge the Hen, Instagram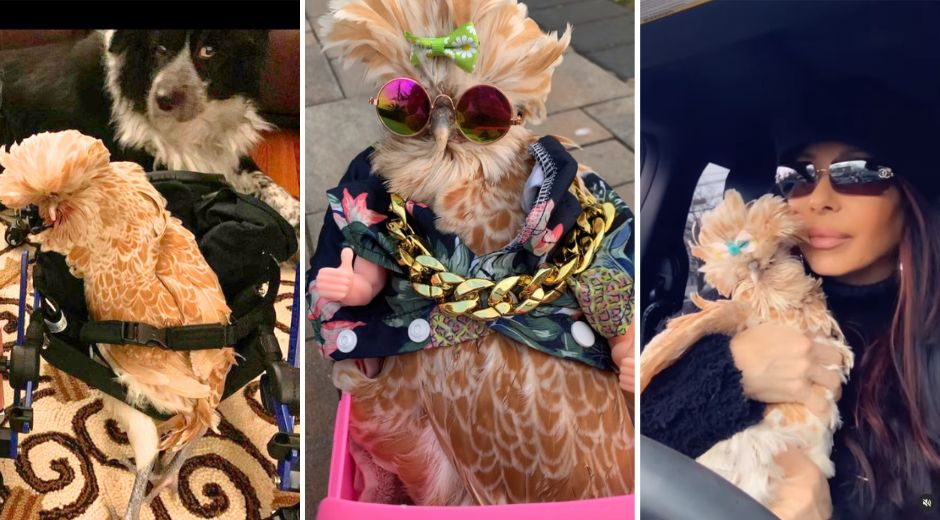 Here's Marge and her mommy/bestie:
And even though Marge had to dedicate most of this time to her rehabilitation, she was also lucky to find love with a special stuffy named Foghorn.
While her focus is on her physical health… If you look good, you feel good. Right?
And if you're wondering who styles her feathers, here ya go:
Now living her best life, you can catch this cool chick cruising like a G.
While many know Marge for her Girl Boss persona, she also loves to take it easy and be pampered by her mom and Foghorn.
You can catch this cool chick on Instagram and TikTok at @margethehen.
For more fashionable fowls, check out Chicken Fashion: Diapers, Saddles, and Tutus by Pampered Poultry.