 Dog
Alphonso Davies has a dog.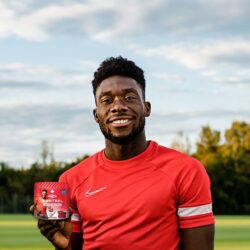 Birthday
November 2, 2000 (22)
Alphonso Davies is a Canadian professional soccer player, recognized for his role as a dynamic left-back for FC Bayern Munich and the Canadian national team. Born in a refugee camp in Ghana, Davies's journey to soccer stardom epitomizes resilience and determination.
Davies's prowess on the pitch is no secret to those who follow European football. Breaking out at the Vancouver Whitecaps FC in Major League Soccer, it didn't take long for top European clubs to notice him. His move to FC Bayern Munich marked a significant milestone, where he became instrumental in the team's success, especially during their 2019-2020 UEFA Champions League triumph. His blistering speed and technical skill have left many a defender in his wake and earned him rave reviews from football pundits worldwide.
Throughout his career, Alphonso has not only made a name for himself but has also forged strong relationships with key figures in the football world. He's shared the pitch with global icons like Robert Lewandowski, Thomas Müller, and Manuel Neuer, while also facing off against stars such as Lionel Messi, Cristiano Ronaldo, and Neymar. Off the pitch, his affable nature has seen him connect with celebrities like James Corden during a memorable television appearance, and fellow athletes like Usain Bolt, acknowledging Davies's remarkable speed.
Recognition for his skill has not been sparse. Among his many achievements, one cannot overlook his contribution to FC Bayern Munich's treble-winning season in 2019-2020, where he played a pivotal role. That same year, he was named the Bundesliga Rookie of the Season. On an international level, Davies has also been celebrated, with the Canadian Men's Player of the Year award in his trophy cabinet.