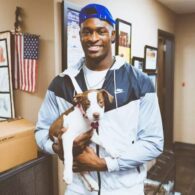 Adaley Jae (Dog)
D.K. Metcalf adopted a two-month-old pit bull mix named Dorothy from the Oxford-Lafayette Humane Society (OLHS). Metcalf first spotted Dorothy on the Snapchat account of an OLHS worker and promptly submitted an application to adopt her. Although he visited the shelter to explore other options, he was captivated by Dorothy and decided to make her a part of his family. After the adoption, he renamed the puppy Adaley Jae.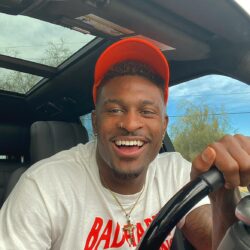 Birthday
December 14, 1997 (25)
DK Metcalf is an American football wide receiver for the Seattle Seahawks of the National Football League (NFL). He played college football at Ole Miss and was drafted by the Seahawks in the second round of the 2019 NFL Draft.
Metcalf made an immediate impact in his rookie season, setting a franchise record for total receiving yards by a player making his NFL debut with 89 yards against the Cincinnati Bengals. He continued to impress throughout the season, finishing with 900 receiving yards on 58 receptions with seven receiving touchdowns. His performance in the Wild Card Round against the Philadelphia Eagles was particularly noteworthy, as he set the NFL record for most receiving yards by a rookie in a playoff game with 160 yards and a touchdown.
Over the years, Metcalf has collaborated with numerous individuals in the sports world. He has formed a dynamic duo with Seahawks quarterback Russell Wilson, and his chemistry with fellow wide receiver Tyler Lockett has been instrumental to the team's success. Additionally, Metcalf has been praised by other NFL players like Budda Baker, Trevon Diggs, and Geno Smith. Outside of football, he has interacted with athletes from other sports, including NBA stars like LeBron James and Stephen Curry, as well as Olympians like Usain Bolt and Michael Phelps. Metcalf's father, Terrence Metcalf, is a former NFL player, which adds another layer to his collaborations and relationships within the sports community.
Metcalf has earned several distinctions throughout his career. In 2020, he was named to the Pro Bowl and received Second-team All-Pro honors. He was also ranked 81st by his fellow players on the NFL Top 100 Players of 2020. His speed and athleticism have been highlighted in numerous plays, most notably when he chased down Arizona Cardinals' safety Budda Baker to prevent a touchdown, reaching a top speed of 22.64 mph.