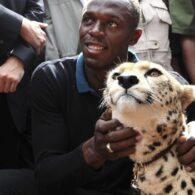 Lightning Bolt
The world's fastest man, Usain Bolt, adopts the world's fastest animal, a cheetah. Known for his love of fast cars, fast living, and now, fast pets. The sponsorship of the cheetah is part of an effort to raise awareness to the Kenyan conservation efforts. To date, the wildlife has been suffering from rapid climate change, trophy hunting, and the growing population of people. Bolt paid $13,700 to adopt the cub and he will also pay $3,000 a year to take care of Lightning Bolt.
"The money will go to the Kenya Wildlife Service, and some will be used to protect Kenya's endangered species", said KWS director Julius Kipngetich. A genuinely noble task for the athlete and we look forward to seeing him in future events.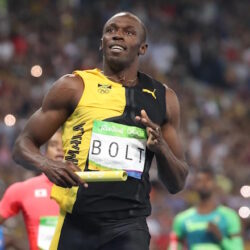 Birthday
August 21, 1986 (36)
Usain Bolt, born August 21, 1986, is a Jamaican sprinter. He is the fastest human ever timed and the first to hold both the 100 metres and 200 metres world records. A nine-time Olympic gold medallist, Bolt won the 100 m, 200 m and 4 × 100 m relay at three consecutive Olympic Games. During the 2016 Olympics, Bolt reported made a whopping $33 Million in endorsements, appearances, and prize money. Gatorade , Hublot and Virgin Media were early to sponsor and following his continued success, many more companies have signed on with the athlete.
In 2017, Bolt had the third highest earning social media income for sponsors among sportspeople (behind Cristiano Ronaldo and Neymar), and he was the only non-footballer in the top seven.