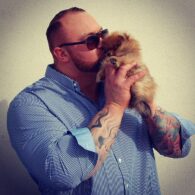 Ástríkur
The "largest" man, casted as "The Mountain" in Game of Thrones, finds the smallest possible fluffy Pomeranian named Ástríkur. You can find all of his cuteness on his own Instagram page. The puppy was adopted around May of 2016 and has since gained over 25,000 followers.
Hafþór Júlíus "Thor" Björnsson (The Mountain / Game of Thrones)
Hafþór Júlíus "Thor" Björnsson is an Icelandic professional strongman, actor, and former professional basketball player. He is well known for his role as Ser Gregor "The Mountain" in the HBO Game of Thrones series. He made his first appearance in the series during season 4 and he has been cast cast for the role of Mongkut in the 2017 film Kickboxer: Retaliation. The popular actor has also broken a 1,000 year-old Viking record carrying a 32-foot, 1,433 pound log for five steps at The World's Strongest Viking competition in Norway, a regional competition similar to The World's Strongest Man.