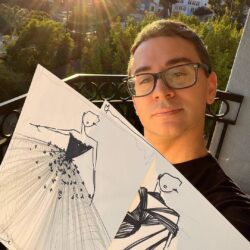 Birthday
November 18, 1985 (38)
Christian Siriano is an American fashion designer and member of the Council of Fashion Designers of America (CFDA). Siriano first gained attention after winning the fourth season of American design competition show Project Runway, becoming the series' youngest winner. He launched his namesake "Christian Siriano" collection in 2008, which brought in revenue of over $1.2 million by 2010 and was estimated to have reached $5 million by 2012.
Christian Siriano burst into the public consciousness through "Project Runway" as the youngest winner of the reality TV series in its fourth season. However, his fame didn't stop there. His self-titled label quickly became a red-carpet staple, with pieces being showcased at prestigious events such as the Met Gala and the Oscars. His clothes have been featured in top fashion publications like Vogue, Harper's Bazaar, and Elle.
Collaborations are a significant facet of Siriano's career. His diverse partners range from celebrities to companies. To start, he has dressed powerhouses like Lady Gaga, Rihanna, and Michelle Obama. Then, you've got A-listers like Sarah Jessica Parker and Oprah Winfrey donning his designs. His clothes have also been adorned by influential figures like Billy Porter and Zendaya. He has a knack for inclusivity, having designed for plus-size model Ashley Graham and actress Danielle Brooks. Siriano even worked with actress and activist Laverne Cox, showcasing a dress that was both a fashion and political statement. Collaborative ventures extend beyond celebrities to retail giants like Payless and home goods retailer Bed Bath & Beyond.
Siriano's exceptional work hasn't gone unnoticed in the industry. He received the Council of Fashion Designers of America (CFDA) Swarovski Award for Womenswear in 2016. His talent for design has also been celebrated by Variety Magazine, which honored him with the "Variety's Power of Women NY Honoree" in 2018 for his advocacy in gender inclusivity in fashion. During the COVID-19 pandemic, he was praised for converting his atelier into a mask-making factory, proving that his impact transcends fashion alone. Siriano was included in Time magazine's 100 Most Influential People of 2018.