 No Pets (James Marsters)
James Marsters does not have any reported pets.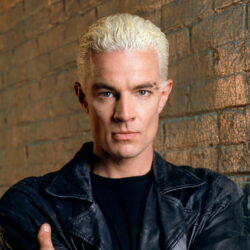 Birthday
August 20, 1962 (61)
James Marsters is an American actor and musician, recognized primarily for his portrayal of the character Spike in the cult TV series, 'Buffy the Vampire Slayer' and 'Angel'.
The early 2000s marked the significant phase of Marsters' acting career. His breakout role as Spike, a character with a punk-rock British vampire flair, brought him international recognition. He perfectly balanced charm, humor, and terror, marking his performance as a standout in the 'Buffy the Vampire Slayer' series. After the conclusion of 'Buffy', Marsters reprised Spike in the spin-off 'Angel', continuing to captivate audiences with his magnetic performance. Not limiting himself to the small screen, Marsters branched out into the world of audio dramas with a series of radio plays and audiobooks, notably narrating a series of Dresden Files novels for Audible.
Throughout his career, Marsters has worked alongside a slew of other renowned performers. His on-screen partnerships with Sarah Michelle Gellar and David Boreanaz in 'Buffy the Vampire Slayer' and 'Angel' respectively, have been praised for their engaging dynamics. He also appeared alongside John Barrowman in 'Torchwood', and worked with actors like Tom Welling and Erica Durance during his tenure on 'Smallville'. Furthermore, he starred in 'Hawaii Five-0' with Alex O'Loughlin and Scott Caan, and appeared in 'The Runaways' along with Rhenzy Feliz and Lyrica Okano.
In 2002, Marsters earned the Saturn Award for Best Supporting Actor on Television for his role as Spike. Later, his performance in 'Torchwood' earned him a Constellation Award for Best Male Performance in 2007. Moreover, his turn as Captain John Hart led him to be nominated for a SFX Award for Best Guest Actor.