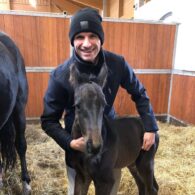 D'Avie
Thomas Müller has a horse named D'Avie. His wife, Lisa, is a horse trainer and competes in events. The couple were selling frozen semen for €200 but after an accident in February 2022, PETA accused the couple of animal cruelty. An investigation found that there was no wrongdoing from the couple.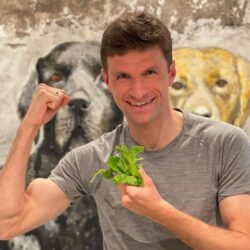 Birthday
September 13, 1989 (34)
Thomas Müller is a German footballer most recognized for his enduring commitment to Bayern Munich and his influential role within the German national team. Throughout his professional journey, Müller's undeniable skill and knack for being at the right place at the right time has solidified him as a true force on the pitch.
Müller's prowess has predominantly been showcased through his unyielding loyalty to Bayern Munich, where he has played a vital role in multiple Bundesliga title conquests and has been instrumental in the club's UEFA Champions League successes. Aside from club football, his contributions to the German national team have been noteworthy. During the 2014 FIFA World Cup, Müller's striking abilities were evident when he was one of the leading scorers, helping Germany clinch the title.
Over the years, Müller's journey has intersected with several footballing giants. Collaborating on-field with icons like Arjen Robben, Franck Ribéry, and Robert Lewandowski at Bayern Munich, their combined efforts have often been compared to orchestrated symphonies. Internationally, playing alongside Manuel Neuer, Mesut Özil, Toni Kroos, and Mats Hummels has amplified Germany's might. Moreover, battles against renowned players like Lionel Messi, Cristiano Ronaldo, and Neymar Jr. in various tournaments have furthered the narrative of his footballing story.
A testament to his skills and dedication, Thomas Müller has been honored with numerous distinctions. Notably, he's been named the top scorer (Golden Boot winner) of the 2010 FIFA World Cup and has secured the Silver Ball as the tournament's second-best player during the same event. His contributions to Bayern Munich's trophy haul have also been substantial, with the UEFA Champions League titles and numerous Bundesliga titles underlining his impressive CV.