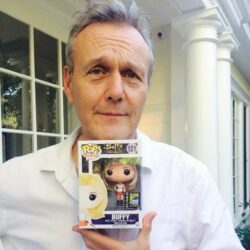 Birthday
February 20, 1954 (69)
Anthony Head is a British actor and musician, best known for his role as Rupert Giles in the hit television series 'Buffy the Vampire Slayer.'
He started his career as a performer in theatre in the UK during the 1980s. He later did television commercials for Nescafé. After a brief break, Anthony Head played the role of Rupert Giles in Buffy the Vampire Slayer (1997–2003). He has also had notable roles in 'Little Britain,' 'Doctor Who,' and 'Ted Lasso.' In addition to television, Head has also left a mark on the silver screen, with memorable roles in films like 'The Iron Lady' and 'A Street Cat Named Bob.' In the music sphere, he showcased his versatility with his 2002 album 'Music for Elevators,' co-created with George Sarah, which perfectly blends his haunting voice with moody electronic music.
Anthony Head's collaboration with Joss Whedon in 'Buffy the Vampire Slayer' also included Sarah Michelle Gellar, Alyson Hannigan, David Boreanaz, Nicholas Brendon, James Marsters, Charisma Carpenter, and Michelle Trachtenberg. He also worked alongside Oscar-winning actress Meryl Streep in 'The Iron Lady.' In 'Merlin,' he worked with talented actors such as Colin Morgan and Katie McGrath. He has also shared the limelight with comedy duo Matt Lucas and David Walliams in 'Little Britain,' as well as celebrated actors Bill Nighy and Imelda Staunton in 'A Street Cat Named Bob.'
Head's efforts have not gone unnoticed, as he has been recognized with several awards and distinctions over the years. He received the prestigious Saturn Award for Best Supporting Actor in a Television Series for his role in 'Buffy the Vampire Slayer' in 2002. His performance in 'Merlin' was also acknowledged, as he was nominated for the SFX Award for Best Actor in 2010. Additionally, his work in 'Ted Lasso' led to a nomination for Outstanding Performance by an Ensemble in a Comedy Series at the Screen Actors Guild Awards.
In addition to his illustrious acting career, Head has also been known for his strong advocacy for animals. He has lent his voice and influence to several animal welfare organizations, such as the Royal Society for the Prevention of Cruelty to Animals (RSPCA) and the Blue Cross.