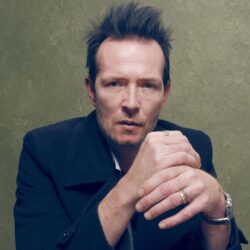 Birthday
October 27, 1967 (55)
Scott Weiland was an American musician, primarily recognized as the lead vocalist of the bands Stone Temple Pilots and Velvet Revolver.
Weiland's voice and stage presence were vital to the success of Stone Temple Pilots, a band that became a staple in the grunge era of the 1990s. Their albums "Core" and "Purple" brought them commercial success, with hits like "Plush" and "Interstate Love Song." Later in his career, Weiland became a key member of the supergroup Velvet Revolver, alongside famous rockers like Slash, releasing the well-received album "Contraband."
Throughout his career, Scott collaborated with a plethora of celebrated artists. He worked with artists like Dean DeLeo and Robert DeLeo in Stone Temple Pilots, Slash, Duff McKagan, and Matt Sorum in Velvet Revolver, just to name a few. Additionally, his interactions with the likes of Mary Forsberg, Jamie Weiland, and the broader rock and roll community portrayed his deep connections within the industry. Collaborations with acts like Sohee, HyunA, Sunmi of The Wondergirls and Scott Stapp, Vince Votta, and Jon Votta of Art of Anarchy also illustrated the expansive nature of his musical outreach.
Over his extensive musical journey, Scott Weiland was nominated for, and received, several awards for his contribution to the rock genre. Most notably, with Stone Temple Pilots, he clinched the Grammy Award for Best Hard Rock Performance with Vocal for the iconic song "Plush."