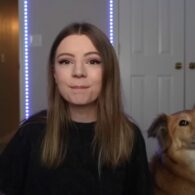 Second Dog (Dog)
Elise Ecklund has a second dog last spotted in one of her YouTube videos in March 2023[3].
Elise Ecklund is an American YouTuber, best known for her music-related content, particularly her ukulele and guitar covers of popular songs. She launched her YouTube channel on February 11, 2015, and uploaded her first video, a guitar tutorial of 'Youth' by Troye Sivan, on March 11, 2016. Her channel quickly gained popularity for its engaging and educational content.
Ecklund's content primarily consists of music tutorials, vlogs, and covers. She has expanded her range over the years, including vlogs that explore various aspects of her life, such as attempting to live on her balcony for 24 hours and handcuffing herself to her sister for a day. A significant milestone in her career was the release of 'I Suffer More' on May 31, 2019, which holds the record for the shortest song ever officially released.