 No Pets (Mark Sheppard)
Mark Sheppard does not have any reported pets.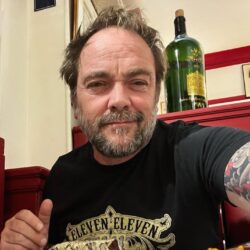 Birthday
May 30, 1964 (59)
Mark Sheppard is a British actor and musician, best recognized for his portrayal of Crowley in the cult television series "Supernatural." His dynamic performance and character depth have added a unique touch to this beloved show.
In the world of television and film, Sheppard has left a significant mark. His defining role came as the demon Crowley, the King of Hell, in "Supernatural," where he won viewers over with his brilliant performance spanning across multiple seasons. Beyond "Supernatural," Sheppard has exhibited his versatile acting skills in popular series like "Firefly," "Battlestar Galactica," "Doctor Who," and "Leverage," among others. His ability to add unique nuances to each character he portrays has led to a successful career in the industry.
Over the years, Sheppard has shared the screen with an array of talented artists. His collaborations span across a wide spectrum, working with the likes of Jensen Ackles, Jared Padalecki, and Misha Collins in "Supernatural," to Nathan Fillion in "Firefly," Edward James Olmos in "Battlestar Galactica," and Matt Smith in "Doctor Who." This impressive lineup further extends to his engagements with Gina Torres, Aldis Hodge, Christian Kane, and Beth Riesgraf in "Leverage."
Marking his achievements, Sheppard's performance has been acknowledged on several occasions. His portrayal of Romo Lampkin in "Battlestar Galactica" earned him a SFX Award for Best Guest Actor. In addition, his character in "Supernatural" was so well-received that it was supposed to be a one-off appearance, but he ended up becoming a series regular due to popular demand.