 No Pets (Norman Lear)
Norman Lear does not have any reported pets.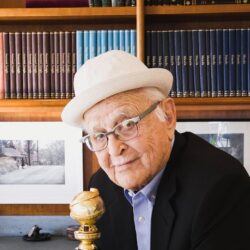 Birthday
July 27, 1922 (101)
Norman Lear is an American television writer and producer who revolutionized the small screen with socially conscious programming, particularly through groundbreaking sitcoms like "All in the Family," "Maude," and "The Jeffersons."
Lear's work in television can be broadly categorized as daring, provocative, and socially relevant. "All in the Family," was a zeitgeist-defining piece that tackled issues like racism, sexism, and generational conflict through the lens of the working-class Bunker family. "Maude," touched upon feminist topics while "The Jeffersons" broke barriers by portraying a successful African-American family. Lear also explored topics considered taboo at the time, like abortion and LGBTQ+ rights, through his TV shows.
Throughout his prolific career, Lear has collaborated with a diverse range of artists and public figures. For example, in "All in the Family," Carroll O'Connor, Jean Stapleton, Rob Reiner, and Sally Struthers brought the memorable Bunker family to life. The show "Maude" featured Bea Arthur, while "The Jeffersons" starred Sherman Hemsley and Isabel Sanford. In film, Lear partnered with directors like Rob Reiner for "This Is Spinal Tap." He also collaborated with Jimmy Kimmel for the live staging of episodes from "All in the Family" and "The Jeffersons," featuring stars like Woody Harrelson, Marisa Tomei, Jamie Foxx, and Wanda Sykes.
Over the years, Lear has gained significant recognition for his work. He received four Primetime Emmy Awards, including Outstanding Comedy Series for "All in the Family." He was honored with the Golden Globe Cecil B. DeMille Award in 1984, and in 1999, he was awarded the National Medal of Arts by President Bill Clinton. Furthermore, Lear was inducted into the Television Academy Hall of Fame.