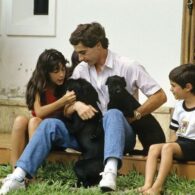 Kinda (Dog)
In 1989, Ayrton Senna shared a moment with his niece Bianca, nephew Bruno, and pet dog Kinda at his parents' home in Sao Paulo. Adjusting to life without Ayrton proved challenging not just for his family, but also for Kinda, the Schnauzer that often kept him company at his retreat in Angra dos Reis. Five weeks after Senna's tragic incident at Imola, pilot Nelson Loureiro had a poignant experience upon landing Senna's helicopter in Angra dos Reis. Recognizing that Ayrton wasn't aboard, Kinda became visibly restless. She searched every room of the mansion and then made her way back to the pier. Through the eyes of Nelson, her demeanor was quiet yet sorrowful. Kinda passed away on January 6, 1999, despite the exhaustive efforts of the Senna family and friends to save her from cancer.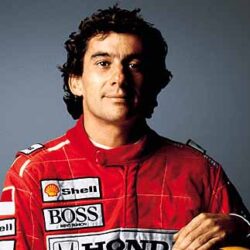 Birthday
March 21, 1960 (63)
Ayrton Senna was a Brazilian Formula One driver who gained international fame for his tenacity, skills, and dramatic rivalries on the racetrack.
Senna's standout performances came in races that demonstrated not just his driving skills but his strategic acumen as well. From the unforgettable duels with Alain Prost in races like the 1989 Japanese Grand Prix to his domination in the wet conditions of the 1993 European Grand Prix, he left an indelible mark on Formula One history. These races were testaments to his incredible ability to handle pressure and make tactical decisions on the fly.
Senna's career was marked by numerous collaborations with influential individuals. He worked closely with his McLaren team manager Ron Dennis and engaged in heated rivalries with fellow drivers like Nelson Piquet and Nigel Mansell. He had the privilege of being coached early in his career by Sir Jackie Stewart. Senna also interacted with automotive engineers like Adrian Newey, and figures like Frank Williams, owner of the Williams Racing team. His career saw endorsements from brands like Tag Heuer, led by Jean-Claude Biver, and even casual friendships with celebrities like the late Brazilian singer Elis Regina and actor Sylvester Stallone, who once considered making a movie about Senna's life.
Over the years, Senna garnered a number of significant titles and distinctions. In 1988, he won his first Formula One World Championship with McLaren, followed by two more in 1990 and 1991. In addition, he holds the record for the most pole positions at Monaco, with six. Furthermore, he was posthumously inducted into the International Motorsports Hall of Fame in 2000, which speaks volumes about his lasting influence on the sport.