 No Pets (L'Jarius Sneed)
L'Jarius Sneed has no pets.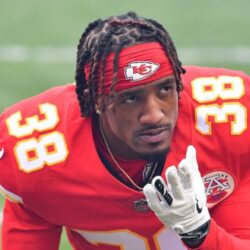 Birthday
January 21, 1997 (26)
L'Jarius Sneed is an American professional football player and cornerback for the NFL's Kansas City Chiefs. He played college football at Louisiana Tech and was drafted by the Chiefs in the fourth round of the 2020 NFL Draft. He quickly made an impact in his rookie season, leading the Chiefs secondary with 4 interceptions and 60 total tackles. In 2021, he was named to the Pro Bowl as an alternate, proving to be one of the top safeties in the league. Sneed is known for his hard-hitting style of play and his ability to break up passes. Off the field, Sneed is an active member in the Kansas City community, frequently participating in charity events and fundraisers.