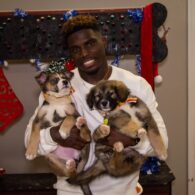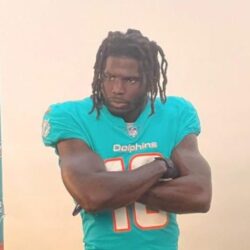 Birthday
March 1, 1994 (29)
Tyreek Hill is an American professional football player, widely recognized as a wide receiver for the Kansas City Chiefs in the National Football League (NFL).
Starting his NFL career in 2016, Hill quickly made his mark as a versatile playmaker, capable of scoring touchdowns through receptions, runs, and punt returns. His rookie season was nothing short of sensational, culminating in 12 total touchdowns—six receiving, three rushing, and three from kick and punt returns. The 2018 season saw Hill amassing 1,479 receiving yards, solidifying his reputation as one of the league's premier wide receivers.
Over the years, Hill has played alongside some of the most prominent figures in the NFL. His partnership with quarterback Patrick Mahomes has been particularly noteworthy, yielding countless game-changing plays. Other significant teammates include Travis Kelce, Sammy Watkins, Mecole Hardman, Le'Veon Bell, and Clyde Edwards-Helaire on the offensive side. On the defensive front, he's been supported by players like Tyrann Mathieu, Frank Clark, and Chris Jones. His connection with coaches Andy Reid and Eric Bieniemy has also been vital in shaping his career.
Hill has been selected to the Pro Bowl five times as of the 2021 season and has been named a First-Team All-Pro three times. His standout performance in the 2019-2020 playoffs helped propel the Chiefs to win Super Bowl LIV, their first championship in 50 years. Among his notable stats, his 95-yard punt return for a touchdown in his rookie season is a standout, marking him as a threat not just as a receiver but as a return specialist as well.