 No Pets (Marcus Samuelsson)
Marcus Samuelsson does not have any reported pets.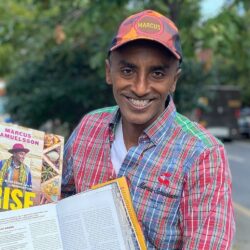 Birthday
January 25, 1971 (52)
Marcus Samuelsson is a highly acclaimed chef and restaurateur who has achieved international success with his innovative approach to cooking and his dedication to using locally sourced, sustainable ingredients. With a career that spans over three decades, Samuelsson has become one of the most influential figures in the culinary world.
One of Samuelsson's early positions started as an Executive Chef of Aquavit in New York City, where he earned a coveted three-star review from The New York Times and helped to establish the restaurant as one of the top culinary destinations in the city. He has since gone on to open a number of successful restaurants around the world, including Red Rooster Harlem in New York, which has become a popular destination for foodies and celebrities alike.
One of the most significant milestones in Samuelsson's career was his selection as the guest chef for the first state dinner of the Obama administration in 2009. This honor was a testament to Samuelsson's status as one of the most respected and influential chefs in the world and helped to raise his profile even further.
Samuelsson has collaborated with a number of notable celebrities and artists throughout his career, including musician Questlove, actor Jesse Tyler Ferguson, and fellow chefs Justin Sutherland and Daniel Boulud. He has also made appearances on several food-related shows and podcasts, including "Top Chef Masters" and "The Sporkful."