 No Pets (Kevin James)
Kevin James does not have any reported pets.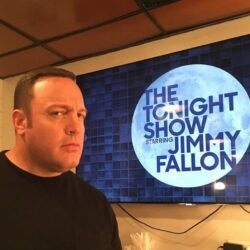 Birthday
April 26, 1965 (58)
Kevin George Knipfing is better known by his stage name Kevin James. He is best known for playing Doug Heffernan on The King of Queens (1998-2007) and has an estimated net worth of $80 million. James has been nominated for Teen Choice Awards, Prime Time Emmy Awards, People's Choice Awards, and the Golden Raspberry Awards but has yet to win.
Kevin James' Career
Kevin James is is an American comedian and actor born on April 26, 1965. After injuries stopped his progress in wrestling and football, he began performing stand-up comedy at age 24 and quickly became popular. He had minor TV roles in the early 1990s and moved to Los Angeles, where he became friends with comedian Ray Romano. James appeared in a few episodes of Everybody Loves Raymond, which led to the making of his show The King of Queens, with Leah Remini playing his wife. In the 2010s he's been known for his movie roles, such as Paul Blart: Mall Cop, Pixels, Zookeeper and Grown Ups and its sequel, co-starring Adam Sandler, Chris Rock, David Spade and Rob Schneider.
Animal Co-stars
In Zookeeper Kevin James starred alongside Ken Jeong who played Venom. The cast features a list of Zoo animals who were voiced by Nick Nolte, Sylvester Stallone, Adam Sandler, Don Rickles (in the final film he finished before his death), Judd Apatow, Cher, Jon Favreau, and Faizon Love.
The animals co-stars included lions, bears, giraffes, elephants, wolves and Crystal the Monkey. All of the animals were real with the exception of an animatronic gorilla named Bernie (voiced by Nick Nolte). In working with animal co-stars, James has said, "Animals act on complete instinct, and in some ways it works and it's a lot better," he said "Maybe we need to go back to that and just act on our instincts. But some of those behaviors can go a little bit off — like marking your territory or throwing poop."