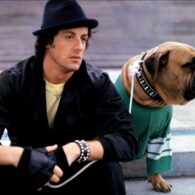 Michael Sylvester Gardenzio Stallone is an American actor and filmmaker born July 6, 1946 and has an estimated net worth of $400 million. He is famous for leading the Rocky and Rambo film series, as well as the more recent Expendables film series. He's also noted for writing, co-writing or directing many of the films in these series. He acting career started with many small movie roles in the early 1970s. His first starring role was The Part at Kitty and Stud's (1970) which was soft core pornography that Stallone said he did while desperate for money. It was later rereleased as Italian Stallion to cash in on his fame after Rocky was released.
While a struggling actor, he was inspired by Muhammad Ali and wrote the script for the original Rocky film that was released in 1976. He tried to sell the script to many studios with no luck or was asked to have a famous actor play the lead. Eventually he was able to make a deal with a much smaller budget. Rocky was nominated for 10 Academy Awards, including Best Actor and Best Screenplay for Stallone himself. It ended up winning Oscars for Best Picture, Best Editing and Best Directing. This led to 6 Rocky movies in total, with one spin-off film Creed in 2015. Stallone wrote five and directed four of them.
His next iconic film franchise started in 1982 with Rambo: First Blood. It had three sequels with Stallone co-writing each of them. In the 1990s, he continued to be one of the biggest action movie stars, with blockbuster hits like Cliffhanger, Demolition Man, The Specialist, Assassins and Cop Land. In 2009 he started the Expendables film series, with him writing, directing and starring in it. It followed up with two sequels and included fellow action stars such as Jason Statham, Arnold Schwarzenegger, Bruce Willis, Jet Li, Dolph Lundgren, Jean-Claude Van Damme, Chuck Norris, Wesley Snipes and more.