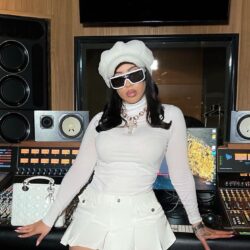 Birthday
July 17, 1994 (29)
Kali Uchis is a Colombian-American singer-songwriter and record producer, whose music spans various genres such as R&B, doo-wop, reggae, and soul. She gained prominence with the release of her debut mixtape "Drunken Babble" in 2012, which was followed by her debut studio album "Isolation" in 2018.
Over the years, Kali Uchis has built an extensive catalog of works. Her debut album "Isolation" was a sonic tapestry that weaved together elements of soul, R&B, reggae, and pop. This was followed by her second studio album, "Sin Miedo (del Amor y Otros Demonios)," released in 2020, which marked a departure from her previous works, embracing her Latin roots and incorporating elements of reggaeton and cumbia. This album's single "Telepatía" went viral on TikTok and subsequently garnered significant radio play.
Kali Uchis has worked with an array of influential figures, including Tyler, The Creator on tracks like "See You Again" and "After the Storm," which also featured Bootsy Collins. Jorja Smith collaborated with her on the hit single "Tyrant," and she's also shared studio time with Daniel Caesar on the Grammy-nominated song "Get You." Other artists like Steve Lacy, Gorillaz (Damon Albarn), Snoop Dogg, and Thundercat have all enlisted Uchis for their projects. She's been part of production collaborations as well, such as with Romil Hemnani and Om'Mas Keith. Additionally, Kali Uchis has ventured into fashion, working with individuals like Alexander Wang and Humberto Leon of Opening Ceremony.
Kali Uchis earned a Grammy nomination for Best R&B Performance for her work with Daniel Caesar on "Get You." She then won her first Grammy Award for Best Dance Recording with Kaytranada for the track "10%" in 2021. Moreover, her album "Isolation" was named as one of the Best Albums of 2018 by various publications, including Rolling Stone and NME.