 No Cats or Dogs (Tyler, the Creator)
Tyler, the Creator has been quite vocal about the lack of pets in his life, down to the lyrics in his music, and a famous Twitter post, "I've never had a pet". He is reportedly deathly allergic to furry pets including cats and dogs. He is a fan of cats though, with cats often featured on Odd Future merchandise.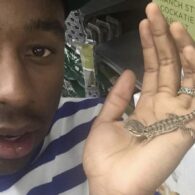 Mr. Turkey
And while Tyler has said he's never had a pet, it seems he might just be referring to the classic pet categories of cats and dogs. He did have a pet lizard named Mr. Turkey, who he posted a birthday video of Mr. Turkey prior to his tweet about not having pets, which fans reminded him of but got no response.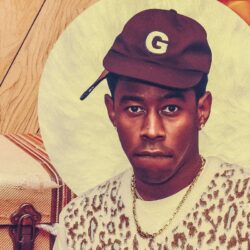 Birthday
March 6, 1991 (32)
Tyler Gregory Okonma, better known as Tyler, the Creator, is an American rapper and record producer.
Following a large contribution to Odd Future's early work, Tyler released his debut solo mixtape, Bastard, in 2009. After releasing his debut studio album, Goblin, via XL Recordings in April 2011, he signed a joint deal with RED Distribution and Sony Music Entertainment for himself and his label, Odd Future Records. With his gritty, horrorcore-influenced earlier releases, Tyler was often criticized for his use of homophobic and misogynistic slurs in his lyrics. He released the albums Wolf (2013) and Cherry Bomb (2015), the latter of which was considered to be a contrast from his previous releases as he experimented with melody-focused and jazz-fused sounds. Tyler's following albums, Flower Boy (2017), Igor (2019) and Call Me If You Get Lost (2021), were all released to widespread critical acclaim, with the latter two also debuting at number one on the Billboard 200.