 No Pets (Amon-Ra St. Brown)
Amon-Ra St. Brown does not have any reported pets.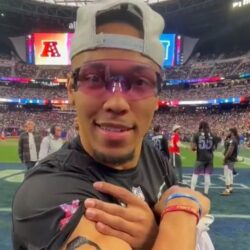 Birthday
October 24, 1999 (23)
Amon-Ra St. Brown is an American football wide receiver who has quickly cemented his position in the National Football League (NFL) due to his impressive skills and determination. Hailing from a lineage of athletes, Amon-Ra has taken the gridiron world by storm.
During his college days, St. Brown played for the University of Southern California (USC) Trojans. His performance there gave a clear indication of the star he was becoming. With exceptional skills, agility, and vision on the field, St. Brown showcased his prowess in some of the most critical matches, leading USC to multiple victories. Upon joining the NFL, he has consistently been a significant asset to his team, delivering numerous highlight-worthy plays that fans and analysts alike have come to admire and expect.
In the course of his burgeoning career, Amon-Ra has crossed paths and collaborated with a myriad of athletes, coaches, and influencers. Notably, his bond with fellow USC teammates like Kedon Slovis and Drake London provided some spectacular moments on the college field. In the NFL, he's shared the turf with giants of the sport, such as Jared Goff, D'Andre Swift, and T.J. Hockenson, to name just a few. Off the field, his connection with his brothers Equanimeous and Osiris, both football players in their own right, has painted a picture of a tight-knit sporting family. Additionally, his relationship with his father John Brown, a two-time Mr. Universe and three-time Mr. World bodybuilder, speaks to the legacy and heritage of athleticism in the St. Brown family.
While many athletes are recognized for their on-field exploits, St. Brown has managed to accumulate a few prestigious distinctions. Notably, during his tenure with the USC Trojans, he earned All-Pac-12 honors, a testament to his outstanding performance and commitment to the sport.