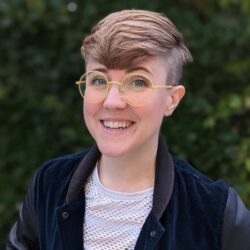 Birthday
November 2, 1986 (37)
Hannah Hart is an Internet personality and YouTube creator. Best known for her groundbreaking YouTube series "My Drunk Kitchen," Hannah has been a prominent figure in the digital space since its earliest days. In addition to her online presence, she has also made appearances on television and in film.
One of Hannah's breakout roles was in the film "Dirty 30," which she co-produced and starred in alongside fellow YouTube stars Grace Helbig and Mamrie Hart (no relation). The film, a comedy about a group of friends celebrating a milestone birthday, was a critical and commercial success.
Hannah also released a publication of her memoir, "Buffering: Unshared Tales of a Life Fully Loaded." The book, which was a New York Times bestseller, explored Hannah's personal journey, including her struggles with mental health and her experiences as a member of the LGBTQ+ community. The memoir earned Hannah widespread praise for its honesty and vulnerability, further cementing her status as a role model and inspiration to many.
Throughout her career, Hannah has collaborated with a number of celebrities and influential figures. She has worked with fellow YouTubers such as Tyler Oakley, Ingrid Nilsen, Lauren Ash, and Shane Dawson, as well as established stars like Jamie Lee Curtis and Lin-Manuel Miranda. Hannah has also been a prominent advocate for animals and animal rights, working with organizations such as the Humane Society of the United States and hosting the television series "I Hart Animal," which follows her as she visits animal shelters and rescues across the country.
In addition to her work in entertainment, Hannah has also been involved in a number of philanthropic endeavors. She has been an outspoken advocate for mental health awareness and has worked with organizations such as The Trevor Project to support LGBTQ+ youth. Hannah has also been a vocal supporter of political and social causes, using her platform to raise awareness and encourage her followers to take action.