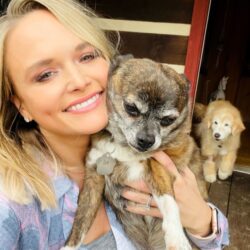 Birthday
November 10, 1983 (40)
Spouse(s)
Brendan McLoughlin
(2019 - )
Miranda Lambert is an established American country music artist, known for her strong songwriting and performing talents that have helped to redefine the modern country genre.
Miranda's debut album, Kerosene, released in 2005, set the stage for a prolific career, with all four singles reaching the top 40 on the Billboard Hot Country Songs. Her subsequent albums, Crazy Ex-Girlfriend and Revolution, were notable for their blend of traditional and modern country elements, and both garnered critical acclaim. Her double album, The Weight of These Wings, released in 2016, was a commercial success and proved her ability to tackle themes of heartbreak and resilience with emotional depth and a raw edge. A strong collaborator, she has worked with a diverse range of artists across her career, including Keith Urban, Carrie Underwood, and her former band, The Pistol Annies.
Throughout her career, Lambert has often joined forces with other notable figures in the music industry. She collaborated with Keith Urban on the song "We Were Us," which peaked at number one on the country charts. Alongside Carrie Underwood, she delivered the high-energy hit "Somethin' Bad," showcasing their combined vocal power. Other collaborations include working with Dierks Bentley on the song "Bad Angel," Little Big Town on the track "Smokin' and Drinkin'," and Elle King for the chart-topping "Drunk (And I Don't Wanna Go Home)." Perhaps her most personal collaboration was with her former band, The Pistol Annies, composed of Ashley Monroe, Angaleena Presley, and Lambert herself.
Miranda Lambert's talent and dedication to her craft have earned her numerous awards and distinctions. Her album Revolution won the Country Music Association's Album of the Year in 2010. The same year, she won her first Grammy for the single "The House That Built Me." In 2014, she was named Female Vocalist of the Year by the Academy of Country Music, her fifth consecutive win of the title. Her double album, The Weight of These Wings, was awarded Album of the Year by the Academy of Country Music in 2017.