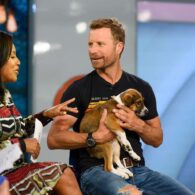 Goose
Dierks Bentley adopted a rescue named Goose during a Today Show segment in August 2019. In a visit to Today in New York City for a performance and interview on the 3rd Hour, American country singer Dierks Bentley found himself attracted to some rescue dogs present on the set, which were there in celebration of "DOGust 1st", the universal birthday for adopted dogs. During his conversation with hosts Jenna Bush Hager and Willie Geist, Bentley revealed that his family had been considering adopting a third dog. Moved by the occasion, Bentley initiated the adoption process on the spot. By the end of the four-hour show, Bentley was already en route to his next tour stop in Buffalo, New York, with his new 8-week-old border collie mix, Goose.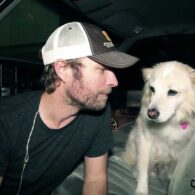 Jake
Dierks Bentley had a dog named Jake that passed away in 2016.
Jake, a medium-sized white mixed breed dog, was adopted by American country singer Dierks Bentley early in his career. Over time, Jake grew to be almost as well-known as his owner. The canine companion featured on the cover of Bentley's self-titled debut album in 2003 and appeared in at least three of his music videos, namely "What Was I Thinkin'", "Up on the Ridge", and "Feel That Fire". Jake also attended numerous industry events, from Bentley's success celebrations and tour rehearsals to performances at the Grand Ole Opry and even a guest appearance on The View.
In 2013, when Jake ran off from the family's Nashville home during a storm, Bentley turned to social media for help in locating him. The city responded in kind, with a significant portion of the local community participating in an 18-hour search that ultimately led to Jake's safe return.
At the unveiling of Bentley's exhibit at the Country Music Hall of Fame and Museum in March, Jake was by his side. Bentley told the crowd, "Jake's been with me through every phase of my career, before I had a publishing deal, before I even had a gig, really." He further shared anecdotes of Jake waiting for him to come home from his early gigs, indicating the deep bond between them.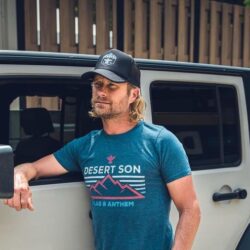 Birthday
November 20, 1975 (47)
Dierks Bentley is an American country music singer and songwriter who has significantly contributed to the genre with a distinctive fusion of modern and traditional country sounds. Emerging from Phoenix, Arizona, Bentley has risen to be an influential force in country music, with a career marked by several hit albums and songs.
Bentley's musical journey began in earnest with the release of his self-titled debut album in 2003, featuring the chart-topping single "What Was I Thinkin'". This album set the stage for Bentley's impactful career, blending bluegrass elements with modern country. Over the years, he has released numerous albums including "Modern Day Drifter", "Long Trip Alone", and "The Mountain". Notable hits like "Drunk on a Plane", "Burning Man", and "Different for Girls" have further solidified his standing in the country music world.
Throughout his career, Bentley has collaborated with a variety of artists, each adding unique layers to his musical narrative. He has worked with such country icons as George Strait, Luke Bryan, and Miranda Lambert. Bentley has also crossed genre lines, teaming up with pop sensation Elle King for "Different for Girls", which highlighted his versatility. His 2010 bluegrass album "Up on the Ridge" featured collaborations with artists like Kris Kristofferson, Alison Krauss, and the Punch Brothers. Bentley has also shared the stage with Jon Pardi, Cole Swindell, and Tenille Townes on his "Burning Man Tour".
Bentley's contributions to country music have been widely recognized. In 2003, he was named Top New Artist at the Country Music Association Awards, marking the beginning of his recognition-filled career. He has since received multiple Grammy nominations, including for Best Country Album for "Riser" in 2014. Bentley has also won several Country Music Television (CMT) awards, including Performance of the Year for "Drunk on a Plane".