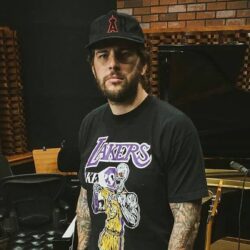 Birthday
July 31, 1981 (42)
Matthew Charles Sanders, known by his stage name M. Shadows, is the lead vocalist for the heavy metal band Avenged Sevenfold.
Avenged Sevenfold, abbreviated as A7X, formed in 1999 and quickly gained a reputation for their hard-hitting tracks and electric live performances. They've released several chart-topping albums including "City of Evil," "Nightmare," and "Hail to the King." Each album showed the band's progression and versatility, expanding from metalcore roots to incorporate more traditional heavy metal, hard rock, and even elements of progressive rock.
M. Shadows hasn't just limited his collaborations to the work with A7X. Over the years, he's joined forces with a myriad of artists both on stage and in the recording studio. He partnered with Slash for the track "Nothing to Say," teamed up with Machine Gun Kelly for "Save Me," and collaborated with Chris Jericho of Fozzy on "Sandpaper." Additionally, his collaborative efforts have encompassed working with individuals like Jonathan Davis of Korn, Joel Madden of Good Charlotte, Chester Bennington of Linkin Park, Ozzy Osbourne, and ventured into the hip-hop domain with artists such as Blackbear.
Avenged Sevenfold's "Nightmare" won the Kerrang! Award for Best Album, and they also secured the title for Best International Band at the Metal Hammer Golden Gods Awards. M. Shadows' contributions to the rock world don't go unnoticed, with numerous magazines and critics regularly praising his vocal prowess and frontman abilities.