 Lamb
Gwen Stefani had a dog named Lamb in the late 1990s/2000s. Lamb was a Lhasa Apso breed, which is a Tibetan breed similar to a Shih Tzu. Lamb's name was also the inspiration for Stefani's L.A.M.B. fashion label. King
Gwen Stefani had a goldfish named King that passed away in 2015. Eminem had a dog that was also named King. Sadly but coincidentally, both Kings passed away shortly after Stefani and Eminem had recorded the song "Kings Never Die".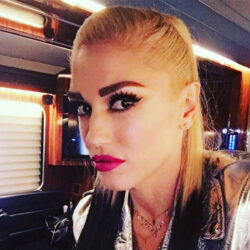 Birthday
October 3, 1969 (53)
Gwen Stefani is an American singer and songwriter. She is a co-founder, lead vocalist, and the primary songwriter of the band No Doubt, whose singles include "Just a Girl", "Spiderwebs", and "Don't Speak", from their 1995 breakthrough studio album Tragic Kingdom, as well as "Hey Baby" and "It's My Life" from later albums.
During the band's hiatus, Stefani embarked on a solo pop career in 2004 by releasing her debut studio album Love. Angel. Stefani has won three Grammy Awards. As a solo artist, she has received an American Music Award, Brit Award, World Music Award, and two Billboard Music Awards.
Gwen Stefani is married to Blake Shelton.