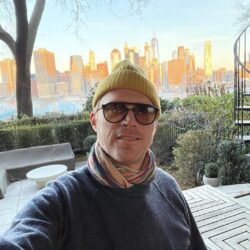 Birthday
May 27, 1971 (51)
Paul Bettany is an English actor who has made a name for himself with his versatile performances in both film and television. Born in London, Bettany began his acting career in the theatre before transitioning to film and television. He has since become one of the most recognizable actors in the industry, known for his captivating performances and collaborations with other artists and celebrities.
Bettany's breakthrough role came in the 2001 film "A Beautiful Mind," in which he played the character of Charles Herman, a close friend and roommate of mathematician John Nash, played by Russell Crowe. His performance earned him critical acclaim and led to other notable film roles, including in "Master and Commander: The Far Side of the World," "The Da Vinci Code," and "Margin Call."
In addition to his work in film, Bettany has also been a frequent collaborator with Marvel Studios, portraying the character of JARVIS in several films in the Marvel Cinematic Universe, including "Iron Man," "The Avengers," and "Avengers: Age of Ultron." He later played the role of Vision in "Avengers: Age of Ultron" and "Captain America: Civil War," and went on to star in the television series "WandaVision," which premiered on Disney+ in 2021.
Bettany has also been involved in several initiatives to support animal welfare and has been a vocal advocate for the protection of endangered species. In 2013, he lent his support to the Save the Rhino campaign, which aims to raise awareness about the threat of rhino poaching and the need for conservation efforts. He has also worked with PETA to promote animal rights and has spoken out against animal testing in the cosmetics industry.
Bettany has also been recognized for his contributions to the arts. In 2004, he was nominated for a BAFTA Award for Best Supporting Actor for his role in "Master and Commander: The Far Side of the World," and he won a Screen Actors Guild Award for his role in "A Beautiful Mind." He has also been praised for his work in theatre, including his performance in the 2014 production of "Shakespeare in Love" in London's West End.