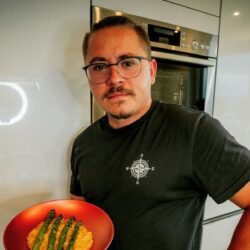 Birthday
September 8, 1988 (35)
Gustav Schäfer is best known as the drummer for the German band Tokio Hotel, featuring prominently in hits such as "Durch den Monsun" (2005), "Schrei" (2005), and "Rette mich" (2006).
Schäfer rose to prominence with Tokio Hotel's first German-language album, "Schrei," released in 2005 on Universal Music Germany. The album not only sold over half a million copies globally but also generated four top-five singles in both Germany and Austria. Success continued with their second German-language album, "Zimmer 483," and their first English-language album, "Scream," in 2007. These albums combined have over 2.5 million copies in sales worldwide. Their evolving music genres shifted from pop rock and alternative rock to electropop and synth-pop post-2014. Their latest work as of 2022 is the album called "2001."
Gustav Schäfer has collaborated extensively within and beyond Tokio Hotel. Inside the band, he's worked closely with Bill Kaulitz (vocals), Tom Kaulitz (guitar), and Georg Listing (bass). Outside the band, examples of his artistic partnerships include working with producers David Jost and Patrick Benzner. Schäfer and Tokio Hotel have played in joint concerts and collaborations with artists like Lafee, Kelly Clarkson, and Cinema Bizarre.
The recognition Gustav Schäfer has received is remarkable. In September 2008, Tokio Hotel, with Schäfer on drums, became the first German band to win an MTV Video Music Award for Best New Artist. They have also been awarded Best Group at the MTV Europe Music Awards in 2009 and Best World Stage Performance in 2010 at the same event. The band made history yet again by becoming the first German band to win an award at the MTV Video Music Awards Japan in July 2011. In total, Tokio Hotel, and by extension Schäfer, have sold over 10 million records worldwide.