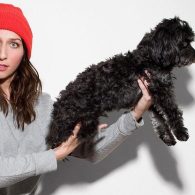 Unknown
Peretti refuses to tell the public what her dog's real name is because she "doesn't want people to be able to call him". In an interview, Peretti stated "he thrives on adrenaline" so the duo walk through dangerous neighbourhoods so he can "get his fix".
When she adopted him, she said he promptly "pooped on the floor, and attacked another dog." She knew he was the perfect fit.
Chelsea Peretti (born February 20, 1978) is an American comedian, actress, and writer. She is best known for portraying Gina Linetti on the Fox comedy series Brooklyn Nine-Nine (2013-present). Peretti has written and acted on a number of television shows, most notably Parks and Recreation (2011-2012), and Kroll Show (2013-2015). She's made appearances on RuPaul's Drag Race (2016) and Girls (2017) alongside Lena Dunham. Peretti was also the voice of Monica on the Netflix series Bigmouth (2017).
On April 26, 2016, Peretti announced via Instagram that she had eloped with Key and Peele's Jordan Peele. The couple have one son, Beaumont Gino Peele, born on July 1, 2017.