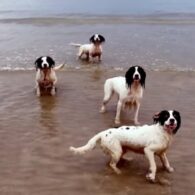 Louie, Dora, Rosy, and Snowbear
Acclaimed actress Tilda Swinton has four dogs, all Springer Spaniels, whose names are named Louie, Dora, Rosy, and Snowbear. Did you know these dogs are also acclaimed actors like their human? Dora, Rosy, and Snowbear appeared alongside Swinton in The Souvenir (2019) and The Souvenir Part II (2021). The trio shared the unofficial "Palm Dog" award at the 2021 Cannes Film Festival. The "Palm Dog" award has been a tradition at Cannes for 20 years since being invented by journalist Toby Rose. Louie has also made a name for himself in Hollywood, playing a notable role with his fur mom in The Eternal Daughter (2022). Swinton even considered getting a dog psychologist for Louie to help with his role. Louis almost appeared in The Souvenir Part II, but Swinton didn't want that smaller role to distract from his big break in The Eternal Daughter. The four pups all appeared on screen together when they starred in a classical music video directed by their fur mom (pictured here).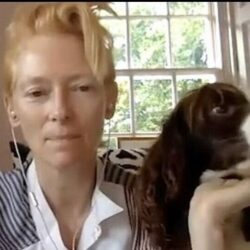 Birthday
November 5, 1960 (62)
Tilda Swinton is a British actress who has been nominated for five Screen Actors Guild Awards and three Golden Globe Awards, and has won a BAFTA Award and an Academy Award. She won the Oscar for Best Supporting Actress and the BAFTA for Best Actress in a Supporting Role for her role in Michael Clayton (2007), which also starred George Clooney. She's appeared in dozens of films, with the following some of her highlights: Orlando (1992), I Am Love (2009), We Need to Talk About Kevin (2011), Snowpiercer (2013) A Bigger Splash (2015), Okja (2017), and The Souvenir (2019). More recently, she's known for playing the "Ancient One" in the Marvel films Doctor Strange (2016), starring Benedict Cumberbatch, and Avengers: Endgame (2019). She's also known for her roles in the Wes Anderson films Moonrise Kingdom (2012), The Grand Budapest Hotel (2014), Isle of Dogs (2018), and The French Dispatch (2021).