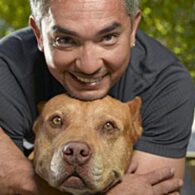 Daddy (Dog)
Daddy (1994 ‒ February 19, 2010) was an American Pit Bull Terrier that worked directly with Cesar Millan as a trainer and also on his show, Dog Whisperer. Daddy is often considered the "world's most famous pitbull". Daddy became known for his calm temperament, tolerance for smaller dogs and capacity for empathy". Daddy's main role on the show was to rehabilitate dogs as well as serve as a role model for dogs associated with aggressiveness.
Daddy had been with Millan since he was 4 months old. His previous owner, rapper Redman, asked Millan to care for him due to his hectic touring schedule. After more than a decade of working together, Daddy selected Junior to be his protégé.
Redman (real name Reginald Noble) is an American rapper, DJ, music producer, and actor. He's best known for his music released in the 1990s on the Def Jam music label for his music and acting collaborations with Method Man.