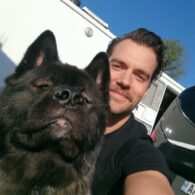 Kal-El
Called Kal for short, Kal-El is named after Superman's name back on his home planet of Krypton. Cavill also uses the hashtag #TheTravelingBear when posting about him on Instagram, because he travels with him everywhere he goes. He adopted her with Gina Carano when they were together in 2014.
Gina Carano is an American actress, television personality, fitness model, and former mixed martial artist (MMA). She competed in EliteXC and Strikeforce from 2006 to 2009, and later led to her being called the "face of women's MMA", although Carano rejected this title. She and Cris Cyborg were the first women to headline a major MMA event during their 2009 Strikeforce bout. Carano retired from competition after her first professional MMA defeat to Cyborg.
Transitioning from the ring to the screen, Carano landed her first major role as the lead of the action film Haywire (2011). She performed in Fast & Furious 6 (2013) and Deadpool (2016). Carano also portrayed Cara Dune in the first two seasons of the Disney+ space Western television series The Mandalorian from 2019 to 2020. Following a series of controversial posts she made to social media, Lucasfilm announced in 2021 that Carano would not appear in future Star Wars media.