 No Pets (Lil Tay)
Lil Tay reportedly doesn't have any pets, which might be a wise decision given the turbulence in her life.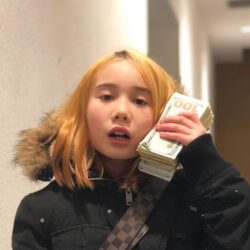 Birthday
July 29, 2007 (16)
Lil Tay is a Canadian internet personality who gained prominence through her controversial and often polarizing social media posts. She is best known for her Instagram videos, where she portrayed a brash, wealth-flaunting persona that caught the attention of millions worldwide.
Emerging through the use of social media, particularly Instagram, Lil Tay's videos frequently featured her boasting about her supposed wealth, houses, and cars. Her posts quickly gained traction, generating both outrage and fascination. The persona she created stirred conversation about materialism and authenticity in the age of social media.
In 2018, her social media accounts were mysteriously wiped, only to be followed by disturbing posts that raised questions about her well-being. Behind the scenes, her parents were embroiled in a custody battle. Her father, Chris Hope, wanted her to follow a more traditional career path, while her mother aimed for her to continue her internet stardom. By 2020, a GoFundMe organized by her half-brother Jason claimed she was being abused by her father and his new wife.
In August 2023, an alarming post appeared on her Instagram account announcing her "sudden and tragic passing," only to be refuted by Lil Tay herself the following day. She claimed her account had been hacked and used to disseminate false information. This was later substantiated by Meta, who reportedly assisted in regaining control of her account. Amid this whirlwind, another Instagram post surfaced accusing her father of faking her death, adding another layer to the complex narrative surrounding her life. Legal representatives stated that her mother had finally won custody along with a $275,000 child support payment from Hope. The often confusing and always evolving saga of Lil Tay serves as a cautionary tale about the complexities and pitfalls of internet fame.