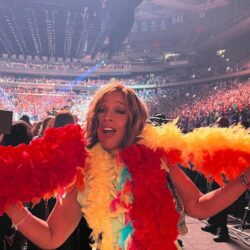 Birthday
December 28, 1954 (68)
Gayle King is an American television personality, journalist, and author, best known for co-hosting CBS This Morning. She gained notoriety in the 1980s as a news anchor for WFSB in Hartford, Connecticut, for 18 years, and subsequently gained national prominence through her work on the OWN Network and as an editor-at-large for "O, The Oprah Magazine."
King's work primarily spans television, where she's made a significant impact as an interviewer and news anchor. She joined CBS This Morning in 2012, becoming an integral part of the show's success, along with co-anchors like Charlie Rose and Norah O'Donnell. Additionally, she's hosted several special reports, providing live coverage on major events such as the Royal Wedding in 2018 and several political inaugurations. Her interviews with key figures in the news have often made headlines, including her sit-down with singer R. Kelly in 2019, which received widespread attention and was noted for King's unflappable composure throughout the emotional conversation.
Over the years, Gayle King has worked with a variety of prominent individuals. She's partnered with Oprah Winfrey, not just as a best friend but also in a professional capacity through O Magazine and the OWN Network. Her interviews have included dialogues with figures such as former President Barack Obama, Michelle Obama, Elon Musk, Taylor Swift, and Bill Gates. On CBS, she's worked alongside John Dickerson, Anthony Mason, and Tony Dokoupil. On the news side, she's had professional interactions with notable journalists like Diane Sawyer, Lester Holt, and Christiane Amanpour.
King has received three Emmy Awards, and her work on CBS This Morning was honored with an Alfred I. duPont-Columbia Award. She was also inducted into the Broadcasting & Cable Hall of Fame. Additionally, she was named one of Time magazine's 100 Most Influential People in 2019.