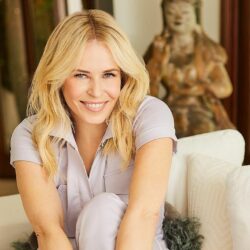 Birthday
February 25, 1975 (48)
Chelsea Handler is a comedian, author, actress, and television host. She rose to fame through her unique brand of humor that often tackled controversial and taboo topics. Handler's breakthrough role came in 2007 when she began hosting her own late-night talk show on the E! network called "Chelsea Lately". The show quickly became a hit and ran for seven seasons, cementing Handler's reputation as a major force in comedy. During her time on the show, she interviewed a wide range of celebrities, politicians, and public figures, often with hilarious results. In 2012, Time named Handler one of the 100 most influential people in the world on its annual Time 100 list.
In addition to her work on "Chelsea Lately," Handler has also acted in a number of films and television shows. She appeared in the films "This Means War" and "Fun Size," and has had recurring roles on shows like "The Practice" and "The Bernie Mac Show."
Handler is also an accomplished author, having written several best-selling books. Her memoir "My Horizontal Life: A Collection of One-Night Stands" was a New York Times bestseller and helped establish her as a major literary voice. She has since written several other books, including "Chelsea Chelsea Bang Bang" and "Are You There, Vodka? It's Me, Chelsea."
Throughout her career, Handler has collaborated with a number of other artists, celebrities, and influential people. She has been a frequent guest on talk shows like "The Ellen DeGeneres Show" and "The View," and has appeared in numerous music videos, including those for the band Maroon 5. She has also collaborated with big names like Oprah Winfrey, Michelle Obama, Kim Kardashian, Dave Grohl, Miley Cyrus, Seth MacFarlane, Gwyneth Paltrow, Sarah Silverman, and Bill Maher.
In addition to her work in entertainment and animal advocacy, Handler has also been involved in various political causes. She has been a vocal supporter of progressive causes and candidates, including Senator Elizabeth Warren and Vice President Kamala Harris.